25000 job cuts recorded in SA Agriculture in Q3, 2017
02.11.2017
25 000 job cuts recorded in SA agriculture in Q3, 2017
After cutting 84 000 jobs in the first half of 2017, South Africa's agricultural sector saw a further 25 000 jobs lost in the third quarter. This puts the combined agricultural job cuts for the past three quarters of this year at 109 000. About 84% of the third quarter job losses were in the Western Cape, which reflects the impact of the continued drought on agricultural activity in the province – Wandile Sihlobo, Agbiz economist
After cutting 84 000 jobs in the first half of 2017, South Africa's agricultural sector saw a further 25 000 jobs lost in the third quarter. This puts the combined agricultural job cuts for the past three quarters of this year at 109 000. About 84% of the third quarter job losses were in the Western Cape, which reflects the impact of the continued drought on agricultural activity in the province. Moreover, the Eastern Cape, Free State, KwaZulu Natal, North West and Limpopo provinces also saw a decline in employment in the third quarter owing to reduced activity in the fields during this winter season.
Unlike the past three years when the third quarter figures presented an uptick in agricultural employment, the sector continued to experience job losses this year due to reduced activity in field crops and horticultural sector. This placed South Africa's agricultural labour force at 810 000 jobs (see Chart 1). The most affected province of all is the Western Cape, although it remains the largest agricultural employer, with a share of 20%.
The Eastern Cape, Free State, Kwa Zulu Natal, North West and Limpopo provinces saw a notable reduction in employment of 5% quarter-on-quarter (q/q), 6% q/q and 2% q/q, 8% q/q and 4% q/q, respectively. Meanwhile, the Northern Cape, Gauteng and Mpumalanga provinces saw job gains of 7% q/q, 29% q/q and 5% q/q, respectively (see Chart 2).
In terms of sub-sector performance – The reduction in employment were in field crops and horticulture, livestock, mixed farming, and production of organic fertilizer. Meanwhile, the other sub-sectors, such as the game farming, forestry, as well as aquaculture showed job gains (see Chart 3). Above all, the South African agriculture's share of total employment is 5%, down by 0.2 percentage points from the second quarter of the year. This is still above sectors such as the mining, and slightly below the transport industry.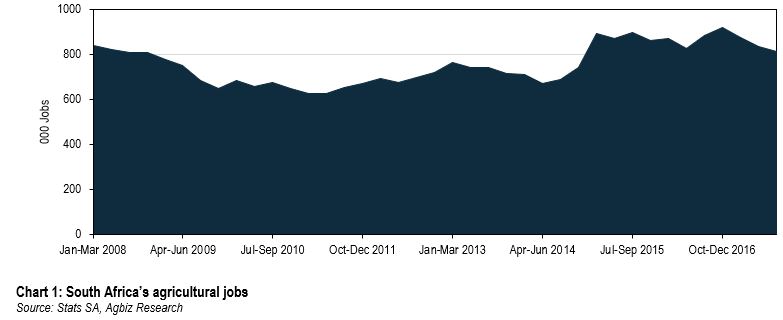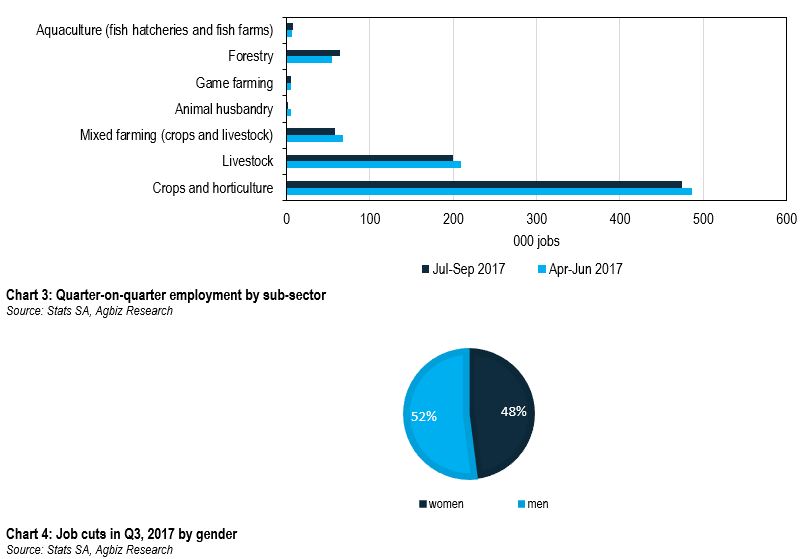 Looking ahead – The persistent drought in the Western Cape province remains a key risk that could potentially undermine the performance of agricultural labour market. Although the summer crop-producing provinces could experience an increase in activity in the fourth quarter of this year, there's limited chance of notable improvement in employment. Most summer crops are not labour intensive, particularly grains and oilseeds.
ENQUIRIES:
Wandile Sihlobo (wandile@agbiz.co.za)
Disclaimer: Everything has been done to ensure the accuracy of this information, however, AGBIZ takes no responsibility for any loss or damage incurred due to the usage of this information.